DART's electric bus fleet will grow with a $3.5 million federal grant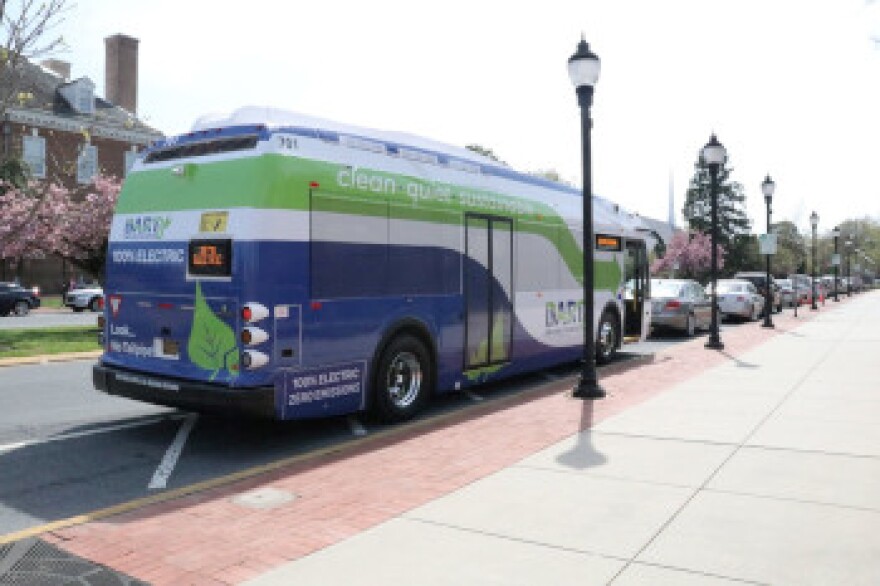 Public transit in Delaware still runs primarily on fossil fuels. But the share of DART buses running on electricity is increasing.
This week, DART announced a new federal grant that will help it buy six new electric buses. Add that to the 16 currently in service and the four going online this fall, and 10% of DART's fixed-route bus fleet will be electric.
The more than $3.5 million Federal Transit Administration grant brings the total in federal grants Delaware has received for electric buses to $9.1 million.
DART's portion of low- or no-emissions buses must grow, and fast. Scientists continue to warn of catastrophic impacts of climate change, unless the world stops burning fossil fuels as quickly as possible. Transportation has historically contributed nearly a third of Delaware's total carbon emissions.
Electric buses are also seen as a healthier alternative, because they have no tailpipe emissions.
But Delaware Transit Corporation CEO John Sisson expects the share of DART's fleet that's electric to grow to just about 50% in the next five to ten years. He says going completely electric is complicated.
"What happens if the electricity goes out, and I can't charge a bus?" he said. "Right now, electricity goes out, I run a generator that I can still fuel my buses with diesel. I gotta figure some of those things out to make sure I can deliver things."
Sisson says DART is trying out technology he calls a "microgrid," to store energy onsite in case of an outage.
Another challenge is keeping the buses charged. Sisson says with overnight charging, they only get about half the range that many DART buses must travel in a day. The transit agency is working on building overhead chargers, which would allow electric buses to charge on the go and run all day.
Sisson says DART is currently testing overhead chargers in Lewes, has some planned for the Dover Transit Center, and will pay for two in New Castle County with the latest federal grant.
Another barrier to electric bus adoption is their cost. Sisson says a traditional diesel bus costs DelDOT around $600,000, while an electric bus costs up to $900,000. The federal grants help offset these costs, but usually require a local match.
Still, Sisson sees the electric buses as a good investment.
"We've actually seen the cost slowly come down over the number of years [we've had them]," Sisson said. "So with anything new it's more expensive at the beginning, and as more manufacturers get in the market and technology improves, sometimes those costs come down. So I do expect it would become more viable long term—and if you offset the environmental impact, I think it's an investment well worth making."
Most of DART's electric buses will be from the manufacturer Proterra, which made buses SEPTA had to sideline for mechanical issues. Sisson says DART has not had any of these problems.
Delaware's Congressional Delegation has pushed for more federal funding for electric vehicles and buses.
"Continued investments in electric vehicles, like the DART First State Electric Buses, will help move Delaware forward toward a more environmentally and energy-efficient state," said Sen. Chris Coons, Sen. Tom Carper and Congresswoman Lisa Blunt Rochester in a joint statement. "We're proud of DART for committing to a greener and cleaner future for Delaware and look forward to securing additional funding at the federal level to increase Delaware's fleet of electric buses."