Dept. of Correction opens new intelligence operations facility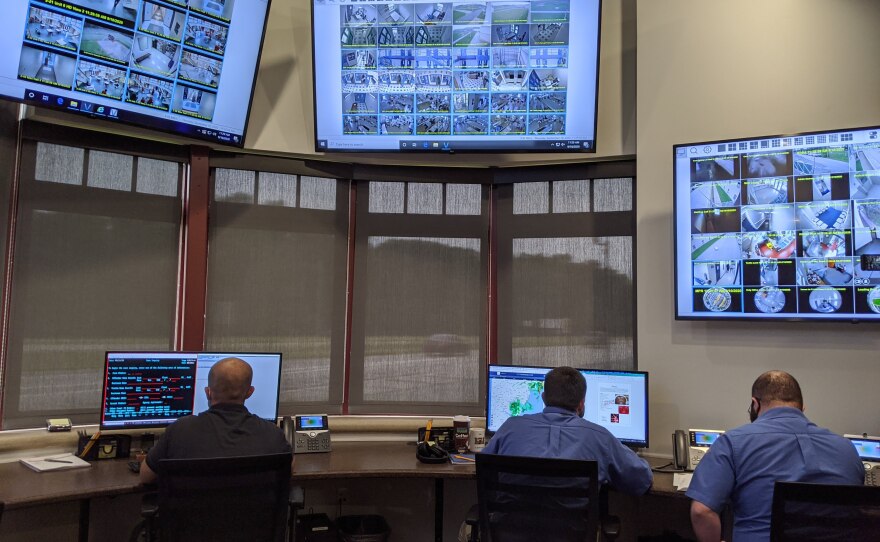 Anaylsts are in charge of monitoring over 2000 cameras throughout the prison system
Roman Battaglia / Delaware Public Media
Analysts also track the weather to keep officers on the ground informed of changing conditions
Roman Battaglia / Delaware Public Media
Claire DeMatteis spoke at the centers grand opening
Roman Battaglia / Delaware Public Media
Inside a secretive Department of Correction building, the state opened a new intelligence facility to improve security in Delaware prisons.
The new facility, known as the DOC Intelligence Operations Center, takes in over 2000 camera feeds from across the state prison system and analyzes security threats to recommend actions to prison wardens.
DOC Commissioner Claire DeMatteis stresses the center leverages the skills of trained intelligence personnel to mitigate threats.
"But again I think it's important to emphasize it's the human intelligence with the cameras and technology. One doesn't work without the other. We need the officers on the ground who know their building, who know their institutions, who know their inmates."
Gov. John Carney also toured the 800 thousand dollar facility, and says if this kind of center was operational back in 2017, they would have avoided the Vaughn Prison Riot.
He says it's a reminder of the important work correctional officers do, and the state's obligation to prevent officer deaths like the one that happened during the Vaughn riot.
"At our correctional officers that go into those institutions every single day. With their spouses that sit at home and worry about them coming home safe every day. Because we have an example in the first week that I was governor of that not happening. And we made a commitment then that that will never happen again. And we've done everything that we can and today is an example of that."
This facility was born out of a list of recommended reforms that came from an independent review of the riot that resulted in the death of a correctional officer.
Carney adds he wants to prioritize improving trade skill training in prisons. He notes the high demand for trade jobs in the state and providing training to inmates will keep the recidivism rates down.
DOC's Special Operations Group Warden Dana Metzger says the facility can keep an eye on officers' work.
Analysts can track use of force incidents with cameras and pair that with other data to determine where certain officers are best suited to be stationed.
There are five analysts at the facility, all with former military or state intelligence backgrounds suited to process the massive amount of data pouring into the new facility.