JFC eliminates grants to nonprofits, fire companies, senior centers to balance budget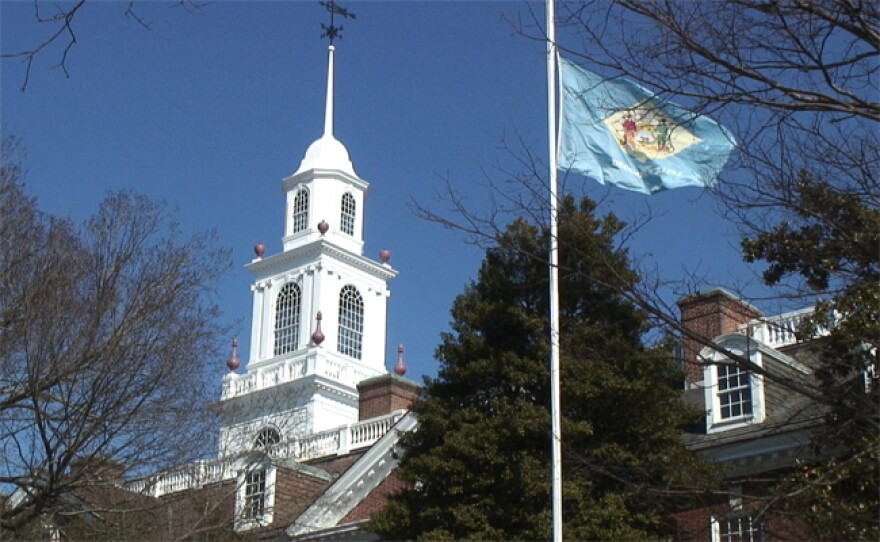 In the face of a standoff between Democrats and Republicans, state lawmakers gutted the entire portion of the budget dedicated to nonprofit grants as Friday's deadline looms.
$37 million of the $88 million in cuts the Joint Finance Committee made Wednesday morning were destined for the grants-in-aid budget, which funds volunteer fire companies, county paramedic services, senior centers and a whole host of Delaware nonprofits.
Disclosure: Delaware First Media Corporation, the parent company of Delaware Public Media, received $90,000 from the grants-in-aid budget during the current fiscal year.
A handful of JFC members said they had heartburn over the idea.
"But not having grant-in-aid we have put all of our communities in jeopardy," said Senate Majority Whip Nicole Poore (D-New Castle)
Rep. William Carson (D-Smyrna) said he recently met a widowed WWII veteran while delivering Meals on Wheels funded by the Modern Maturity Center.
The man told Carson it was his only decent meal he ate each day.
"To not have grant-in-aid for these people is one of the worst things government can do," said Carson. "It's like we're throwing heroes away."
"Grant-in-aid is important because those agencies do a lot of work the state would normally have to take on," said Sen. Bruce Ennis (D-Smyrna).
JFC also slashed $37 million in education funding. Local districts will be able to recover about $22 million of that by raising property taxes without going to referendum.
They have three years to do so and that funding will permanently become part of their base budgets.
Sussex County will also have to fully pay for the state troopers stationed there, saving the state $2.1 million.
"We have a balanced budget and it's darn near a miracle that we do," said JFC co-chair Sen. Harris McDowell (D-Wilmington North).
Both Republicans and Democrats were quick to blame the situation on each other.
"The idea that [Democrats] would use our nonprofits as a tool in budget negotiations is mean-spirited and pathetic," said Senate Minority Leader Gary Simpson (R-Milford) and Senate Minority Whip Greg Lavelle (R-Sharpley) in a statement.
Senate Pro Tem David McBride (D-New Castle) called it "…the bed our Republican colleagues have made for our state."
"…now our Republican colleagues have shifted from negotiating to dictating that we inflict further pain on our most vulnerable residents – our seniors, our school children, our veterans and those who count on the essential services provided by non-profits," McBride said.
Those cuts to the grants-in-aid bill may not be permanent, though.
Both parties are currently at a standstill when it comes to agreeing on a potential personal income tax hike as the fiscal year comes to a close Friday.
GOP leaders say they want a three-year moratorium on local governments and school districts paying prevailing wage on public works projects, but haven't committed votes to any tax plan if they get it.
Gov. John Carney (D) and other top Democrats have repeatedly called such a move a nonstarter.
They've agreed on much of Republicans' other demands, including studying how to save money on Medicaid and look at ways lawmakers might cap overall state spending based on some kind of economic benchmark.
A revised personal income tax bill would still raise rates across all brackets – including a new bracket for those earning more than $150,000 annually – but it doesn't completely eliminate itemized deductions.
Things like mortgage interest, charitable donations and others would still be able to be deducted from a tax return by 50 percent, according to House Speaker Pete Schwartzkopf (D-Rehoboth Beach).
That new plan would raise about $171 million when it fully takes effect next July.
"If revenue comes in later, we can certainly spend it on grant-in-aid," said JFC co-chair Rep. Melanie George Smith.
When asked why he won't budge on prevailing wage, Schwartzkopf said, "You don't give up what you believe in when you're being held hostage…"
"Because there's sometimes you don't sell your soul to make a deal," he said.
House Minority Leader Danny Short (R-Seaford) says he's not moving either.
"I've watched enough American Pickers to know once you lay out your price on that valuable product, the other side is supposed to make a counter offer. We haven't seen the counter offer," Short said.
The Democrats' counter offer includes studying how to cut healthcare spending and look at ways to reduce budgetary growth – which Republicans want.
Schwartzkopf says he's going to run his proposed personal income tax hike Thursday – which can pass the House with Democratic support. It'll still need two Republicans to clear the Senate.
The operating budget won't hit the floor until June 30, according to Schwartzkopf.