Sen. Carper 'trying very hard' to be impartial as impeachment trial gears up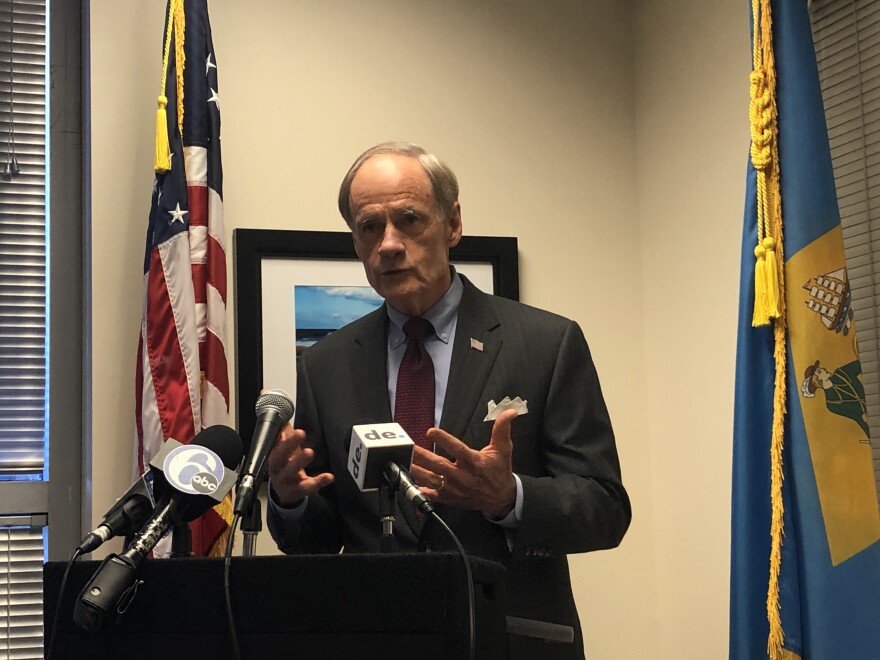 Delaware's senior Senator is calling for witnesses to be heard in the Senate's impeachment trial of President Trump.
The U.S. Senate is set to convene Tuesday afternoon for the President's impeachment trial on charges of abuse of power and obstruction of Congress. Senators are expected to debate the process for the trial— including whether witnesses can be called to testify and additional evidence entered.
Carper said Friday he wants to hear from several witnesses with information relevant to the charges against the President.
"They include the President's acting chief of staff, acting OMB director," he said. "They include several people who are part of the National Security Council right around the President who have relevant information about these charges."
Carper adds an associate of President Trump's personal lawyer, Rudy Giuliani, wants to testify. Carper notes Senate Democrats' ability to call witnesses may affect the outcome of a final vote.
"If we get the witnesses in the end that we want and people that were there present who can say to us this happened or it didn't happen, then we'll vote to convict," he said. "If we don't have the opportunity to hear from witnesses with relevant information under testimony and the information we're asking for, then we will not convict. There will not be the votes to convict."
Carper says countries around the world with similar constitutions are looking to the United States to lead by example during this impeachment process.
Carper says accusations the President attempted to bribe the leader of another country to say bad things about Joe Biden's son indicates to him Trump fears losing to Biden in the 2020 election and is trying to divert attention.
However, Carper says he wants a fair impeachment trial process, and will seek to be impartial. "I'm trying very hard to be. None of us is perfect, but I'm trying very hard to be. In fact, I've been asked for months if there is an impeachment, will I vote to convict. And I said I think we're getting ahead of ourselves."
Carper says he expects new information to continue coming out about the charges against President Trump and his alleged dealings with Ukraine.
A government watchdog agency released a report last week concluding the President broke a budget law when he froze aid to Ukraine last year.