Law enforcement announces arrests involving two major drug operations in the state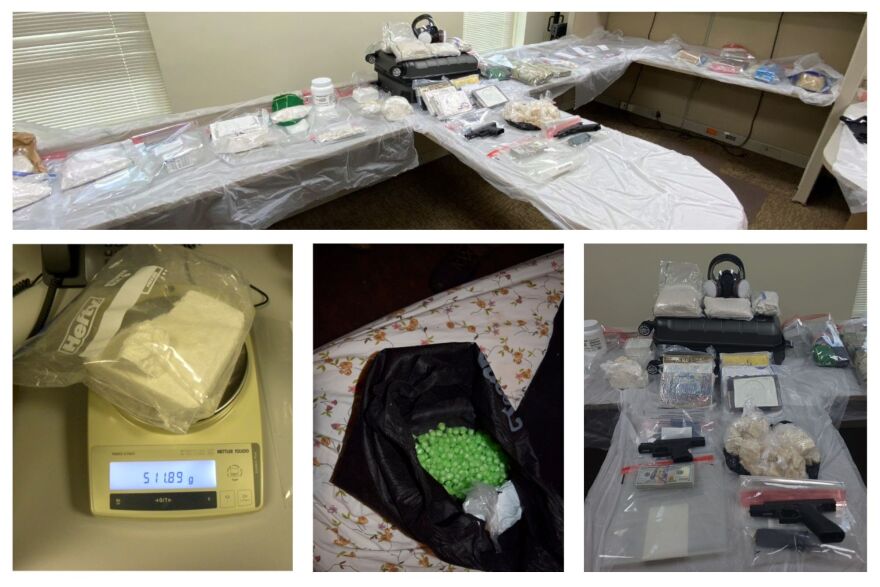 Cocaine, fentanyl, methamphetamine, xylazine, marijuana, and counterfeit pills that included mixtures of multiple substances were amongst those seized in two multijurisdiction investigations in New Castle and Kent Counties.
The case in New Castle County was centered in the Rosegate community. 12 federal defendants are charged with conspiracy to distribute cocaine, fentanyl, methamphetamine, and marijuana. 2 of those defendants are also under investigation for the manufacturing and distribution of fentanyl at an out of service daycare center. An additional 6 defendants are being charged by the Delaware Attorney General's Office.
"Agents seized two large pill presses, one kilogram press, 11 handguns, two assault rifles, more than 3.5 kilograms of suspected fentanyl, 1.7 kilograms of cocaine, $78,000 in cash, 152 grams of methamphetamine and 7.5 pounds of marijuana," said U.S Attorney for the District of Delaware David Weiss.
The Rosegate drug trafficking organization was directed by two brothers, one of which also manufactured fentanyl and counterfeit pills that were mixed with MDMA, ecstasy, fentanyl, and methamphetamine.
"They recruited members of the community to transport and store drugs. And both brothers used the homes and abandoned cars of elderly residents to store drugs and thereby reduce the risk of detection by law enforcement," said Weiss.
Investigation of this case was led by the New Castle County Police Department and the Federal Bureau of Investigation.
And Weiss says the ongoing work of the NCC PD and the Delaware Attorney General's Office prior to this investigation aided in giving insight into the nature and scope of the problems we faced in Rosegate.
"Since 2018, there have been 1,500 calls for service in the Rosegate community," he explained. "There have been a number of shootings which produced eight victims, including a nine month old child shot in the head in November of 2020.During the same period, 30 different drug investigations resulted in the seizure of cocaine, crack, heroin, fentanyl, meth, and firearms."
In Kent County, there are 4 defendants involved in the sale of fentanyl, methamphetamine, and cocaine in and around Dover. These sales were often conducted in local restaurants like Grottos and The Green Turtle.
During the investigation, which was led by the Drug Enforcement Administration and Delaware State Police, law enforcement obtained search warrants for seven locations.
On May 17th, agents executed these warrants.
In the first location, in Middletown, they discovered a kilogram press, body armor, and a firearm.
In the second location, which the lead perpetrator used as a stash house, they found 7.5 kilograms of fentanyl. This is the largest recovery of fentanyl in Delaware's history.
"7.5 kilograms does not sound like a lot. But I want to give you something to reference to understand how incredibly significant that is. Conservatively that's 380,000 potentially lethal doses of fentanyl," said Patrick Trainor, a special agent in the Drug Enforcement Administration in Philadelphia.
The remaining locations revealed an additional 10.3 kilograms of cocaine, 2.4 kilograms of crack, 300 grams of xylazine, 280 grams of methamphetamine, 2 bundles of fentanyl, 2 firearms, and $70,000 in cash.
Weiss says the quantities seized in both cases are staggering- and continue to escalate.
"The drugs sold and the toxic mixtures that are created are becoming more dangerous. The tactics employed by the defendants are more sophisticated. And the prevalence of firearms in and around the drug trade is alarming. As has been made clear, no county, and no community, is immune to the dangers of the drug trade."
2 of the total of 12 federal defendants involved in the New Castle County case are still at large. Detention hearings have been held for the 10 in custody.
All 4 defendants in Kent County have been apprehended, with 3 awaiting hearings.